[UPDATED] Billy Santoro—Who's Accused Of Violently Abusing His Husband—Says That CockyBoys Is "Accused Of Abuse, Too"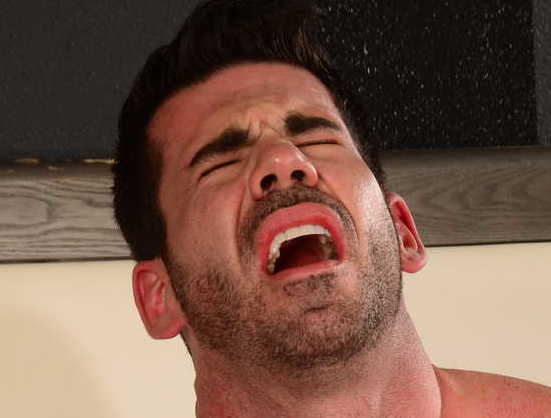 [This story has been updated below.]
Despite his recent pronouncement that blogs are irrelevant, gay porn star Billy Santoro would apparently still like some attention from a blog, as he's tagged Str8UpGayPorn in a tweet this week. In the tweet, Santoro says that Str8UpGayPorn "never bashes" gay porn studio CockyBoys when a "model comes forward," and that CockyBoys "are accused of abuse too!" Santoro's use of the word "too" suggests he's been following the latest news on Michael Lucas and Lucas Entertainment—who were again accused this week (for at least the 18th time in the last four years) of mistreating and not paying a performer— and he'd like to see CockyBoys "bashed" for allegedly abusing a performer, too.
(Two of the six "likes" on Santoro's tweet were from performers Tobias and Osiris Blade.)
The link in Santoro's tweet points to the personal Facebook page of performer Seth Knight, which would suggest that Knight had posted an accusation of abuse against CockyBoys (Knight performed in several CockyBoys scenes in 2012). The link, however, goes to a broken/unavailable/removed page:
While Santoro considers a news site reporting allegations of abuse as "bashing" the alleged abuser (an oxymoron taken straight out of Bill O'Reilly or Donald Trump's playbook), Str8UpGayPorn takes every accusation seriously, and we've reached out to Seth Knight to find out if there's any truth to Santoro's tweet.
As many will recall, Billy Santoro was himself accused this summer of violently assaulting his husband Seth Santoro (from whom he's now separated). Seth Santoro shared numerous tweets, Facebook posts, and photos showing evidence of the assault, alleging that Billy Santoro "punched me in the face repeatedly."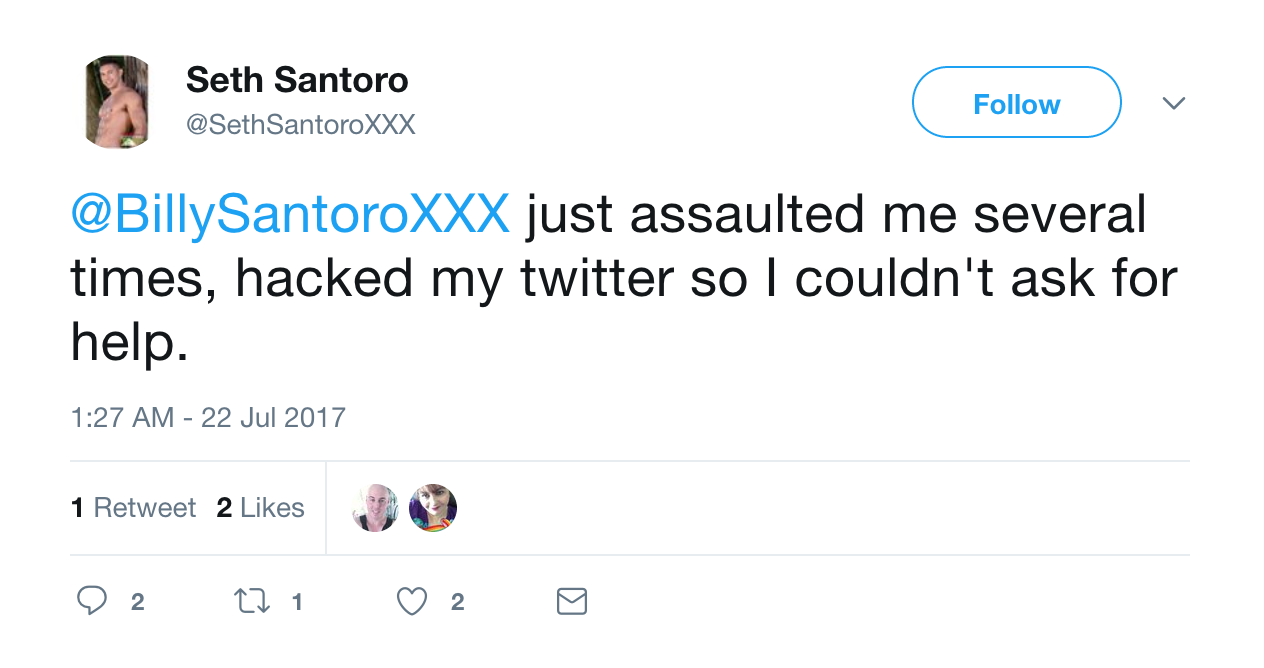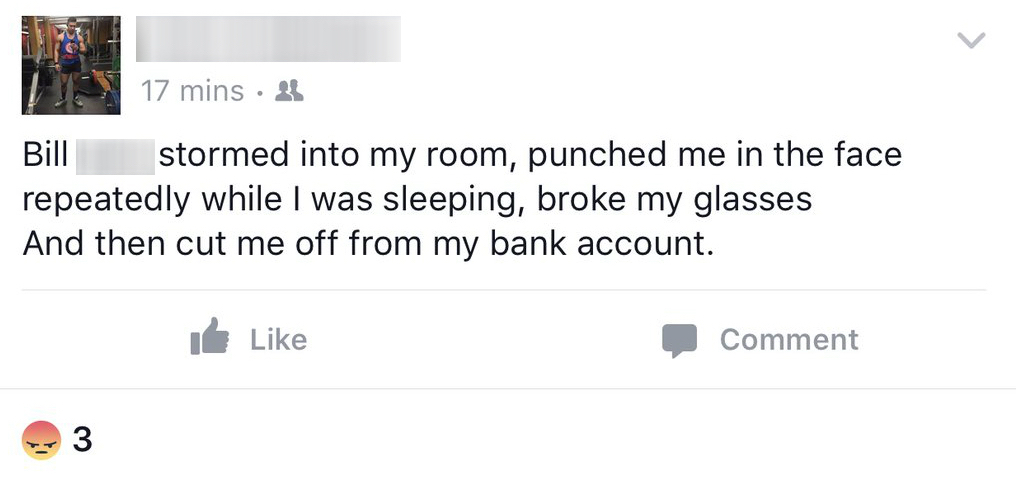 Seth Santoro went on to accuse Billy Santoro of publishing "hundreds of videos" of men having sex, "without their consent," and that he "makes money off their suffering."
Over the last few years, Billy Santoro has verbally attacked multiple performers and studios on social media, including Colt Rivers, TitanMen, Tex Davidson, Icon Male/Nica Noelle, Lucas Entertainment/Michael Lucas, and David Benjamin. Before he was banned from commenting here on Str8UpGayPorn, Billy Santoro left several comments appearing to disclose information about models' personal lives, including one about CockyBoys models:

And on another post in 2015 (which is obviously none of anyone's business, not to mention complete hearsay), Billy Santoro outed four BelAmi models as being HIV-positive:
UPDATE:
While it's not clear why Billy Santoro is so intent on harassing CockyBoys (he's never filmed for them, and he and the studio have not had any involvement with each other that I can confirm), he continued his attack on them yesterday, suggesting that he'd take legal action against the studio for filming content in New York:
(Note that, once again, one of Billy Santoro's "likes" came from performer Tobias.)
As with most things Billy Santoro "thinks," he is once again wrong, as pornography production is federally protected by the First Amendment, and a state would be wasting its time attempting to challenge porn production, unless it involved obscenity, minors, or prostitution (and New York state has in fact already ruled that pornography is not prostitution).
Santoro also subtweeted Str8UpGayPorn yesterday, stating that Str8UpGayPorn "follows [his] Twitter" because he believes using his name attracts attention for the site:
For the record, Str8UpGayPorn does not follow Billy Santoro's Twitter. And, the only reason this article on Billy Santoro was published was because of Billy Santoro making a false accusation against Str8UpGayPorn, and tagging Str8UpGayPorn in his tweet this week, as originally posted at the start of this article:
Falsely suggesting that Str8UpGayPorn was aware of an allegation of abuse obviously merited a response here, which is why you're reading this article. If Billy Santoro had not tagged and attempted to involve Str8UpGayPorn in a false allegation, this article would not exist.
In another tweet, Billy Santoro again referred to this article, which, again, would not exist had Billy Santoro not made false allegations that required a response: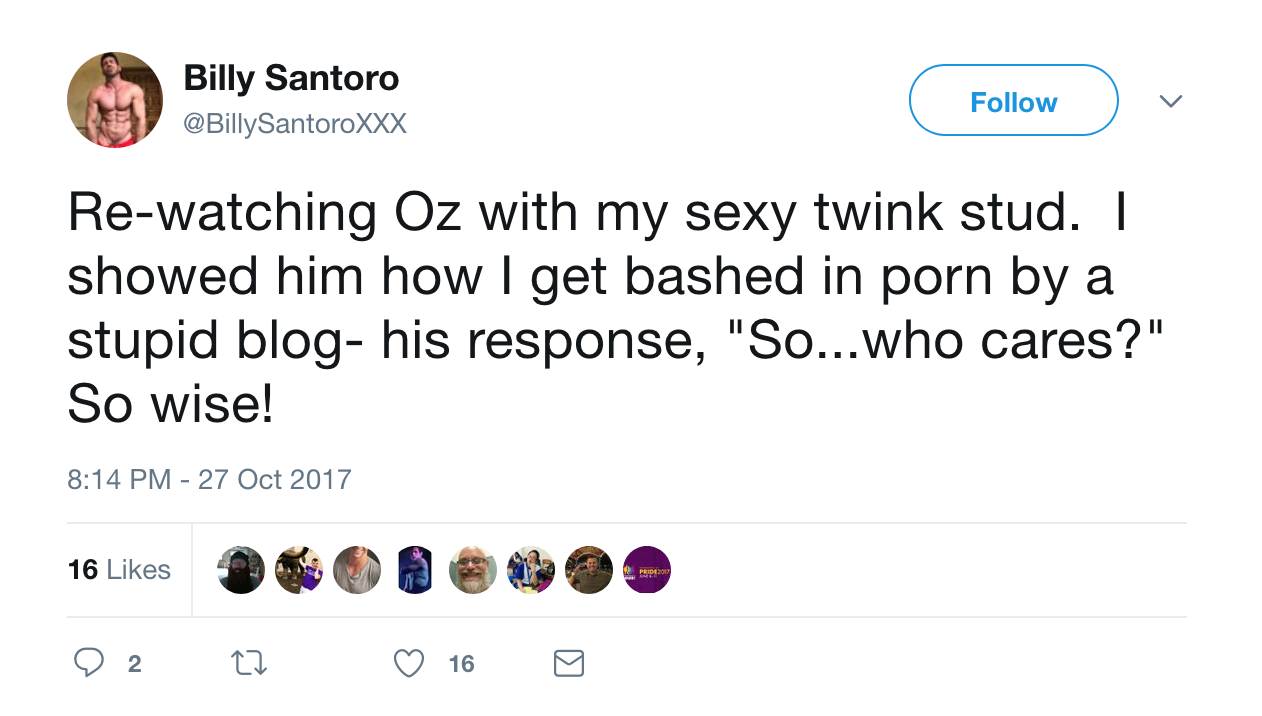 Santoro's repeated use of the word "bashed" and his need to present himself as a victim is bizarre, given that he is in fact the one constantly initiating his own drama (not just with Str8UpGayPorn, but with multiple performers and studios, as noted above). Then, when reports on his behavior and responses to his allegations are made, it's Billy Santoro that's being "bashed"?
The word "bashed" is predominately used as a verb, with the definition: "to strike with a crushing or smashing blow." In other words, something that Billy Santoro has been accused of doing to his husband.