Nica Noelle: "Gay Porn Is A Toxic Nightmare, And I Want Out"
It's not every day that a studio's director lashes out publicly against his or her own studio and the people who pay his or her bills, but Nica Noelle, a sociopath, isn't your every day director. The embattled Icon Male autuer has been accused of mistreating multiple models on her sets, and the backlash against her allegedly abusive behavior is finally starting to take its toll on her.
Yesterday, after shooting 13 scenes in seven days, Noelle told one of her Twitter followers that she's working on leaving the industry.
Rather than accept responsibility for her own actions, Noelle is blaming her troubles on the so-called "success" of her studio. Here, she tells another follower that she wishes her company would've failed: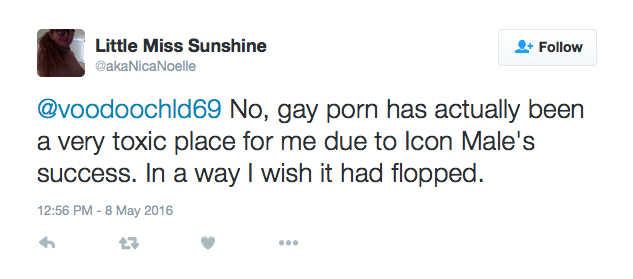 Interestingly, many high profile gay porn directors have found great success in the industry—including Marc MacNamara, Chi Chi LaRue, Tony DiMarco, Steve Cruz, Casey Roman, Jake Jaxson, mr. Pam, and Jasun Mark—and all of them have managed to do so without bashing their own industry.

Interestingly, Nica Noelle has spent the last three years on Twitter actively fighting with models and rival studios, complaining of "disasters" on set, and threatening bloggers and their family members, but the nightmare is "gay porn," not the hostile environment she's created through her own actions.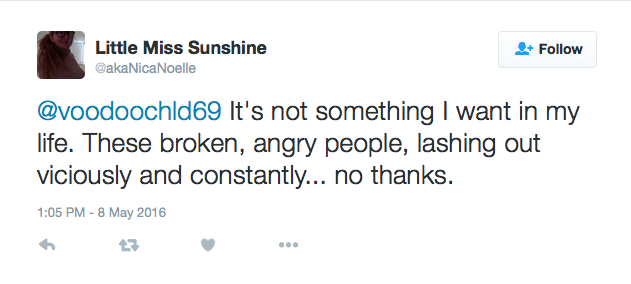 Interestingly, there are dozens of directors shooting hundreds of gay porn scenes every year, and yet it's only Nica Noelle who has had to deal with such "broken" and such "angry people" who are "lashing out" at her. Why is that?
If and when Nica Noelle does finally retire, fans and members of her studio needn't worry. Icon Male can easily find a replacement to shoot creepy incest porn set to classical music.