Year In Review: The Worst Of Gay Porn In 2022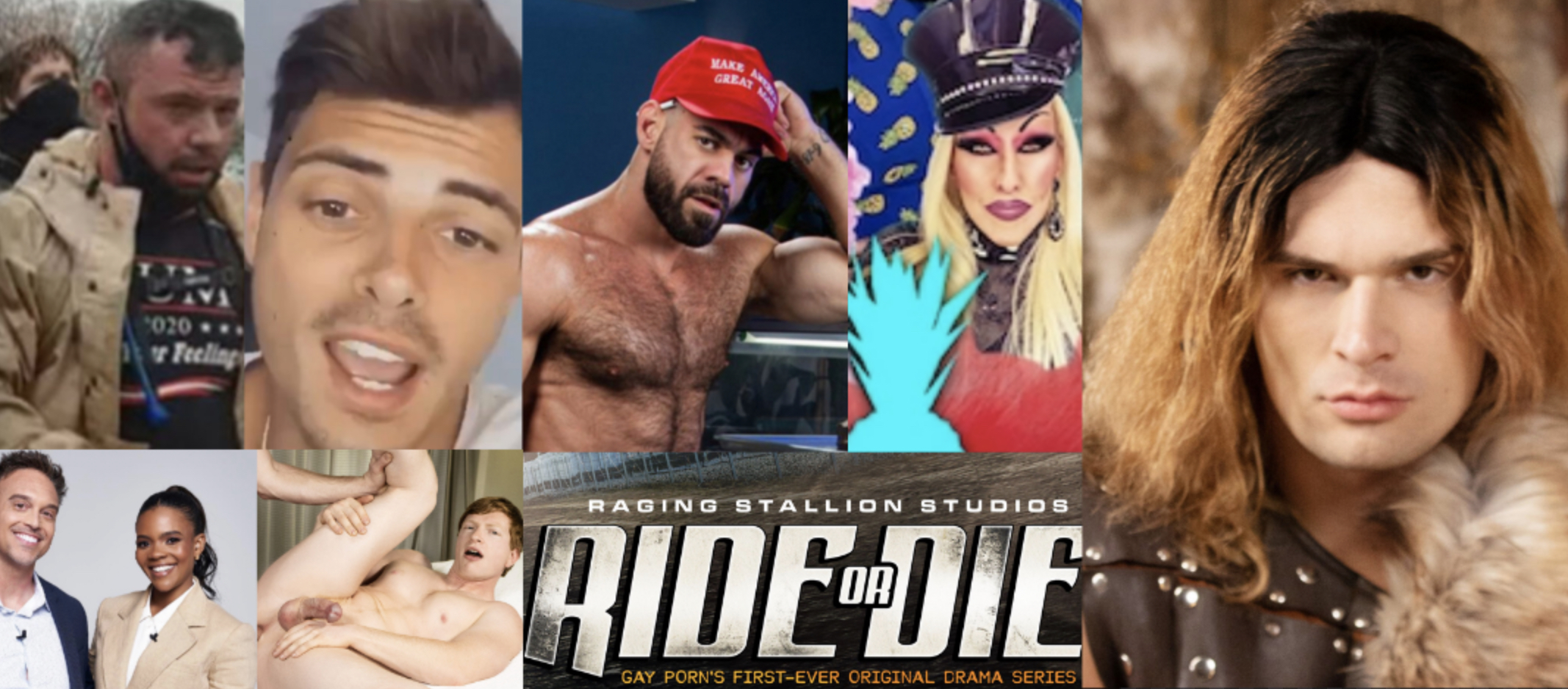 Well, the holidays are officially over, so it's time to go back to being a bitch. Of course, calling out the worst people of the year doesn't really make anyone a "bitch," but if that's the label some (e.g., the people on this list) want to use on Str8Up after reading this, please do!
Here are the Top 8 (I aimed for a Top 10, but apparently I'm not as big of a bitch as usual) worst things that happened in gay porn in 2022, which include gay-for-payers, horrible scenes and studios, toxic assholes (and not in a good way), and the overall worst people of the year. Please note that not everything on this list is comparable (a bad porn scene isn't necessarily as bad as a domestic terrorist!), and please click any of the links below if you missed the original stories.
—Worst Enabling Of A Racist Gay Porn Star By A Gay Porn Studio: NextDoorStudios
If RodsRoom had been the only studio from conglomerate Gamma to release a scene featuring ghoulish twink Ben Masters, the company might've had an easy out. "Oh shit! We completely forgot he was racist," they could've lied. Instead, nearly three weeks after being called out for the RodsRoom release, NextDoorStudios (a studio also owned and operated by Gamma) doubled-down and released yet another video with Masters, who made headlines across gay porn and gay mainstream media for his anti-BLM meltdown at the height of the George Floyd protests in 2020. NextDoor (who tweeted out their support of BLM back in 2020, as seen above) even issued a press release about the Masters scene this month to profess their love for the racist twink, writing: "[NextDoor Chief Creative Officer] Jeremy Babcock hailed the studs' performances. 'What a great group of guys!'" Between making sleep-inducing gay porn and worthless virtue signaling on social media, it's all in a day's work for Jeremy Babcock and NextDoor!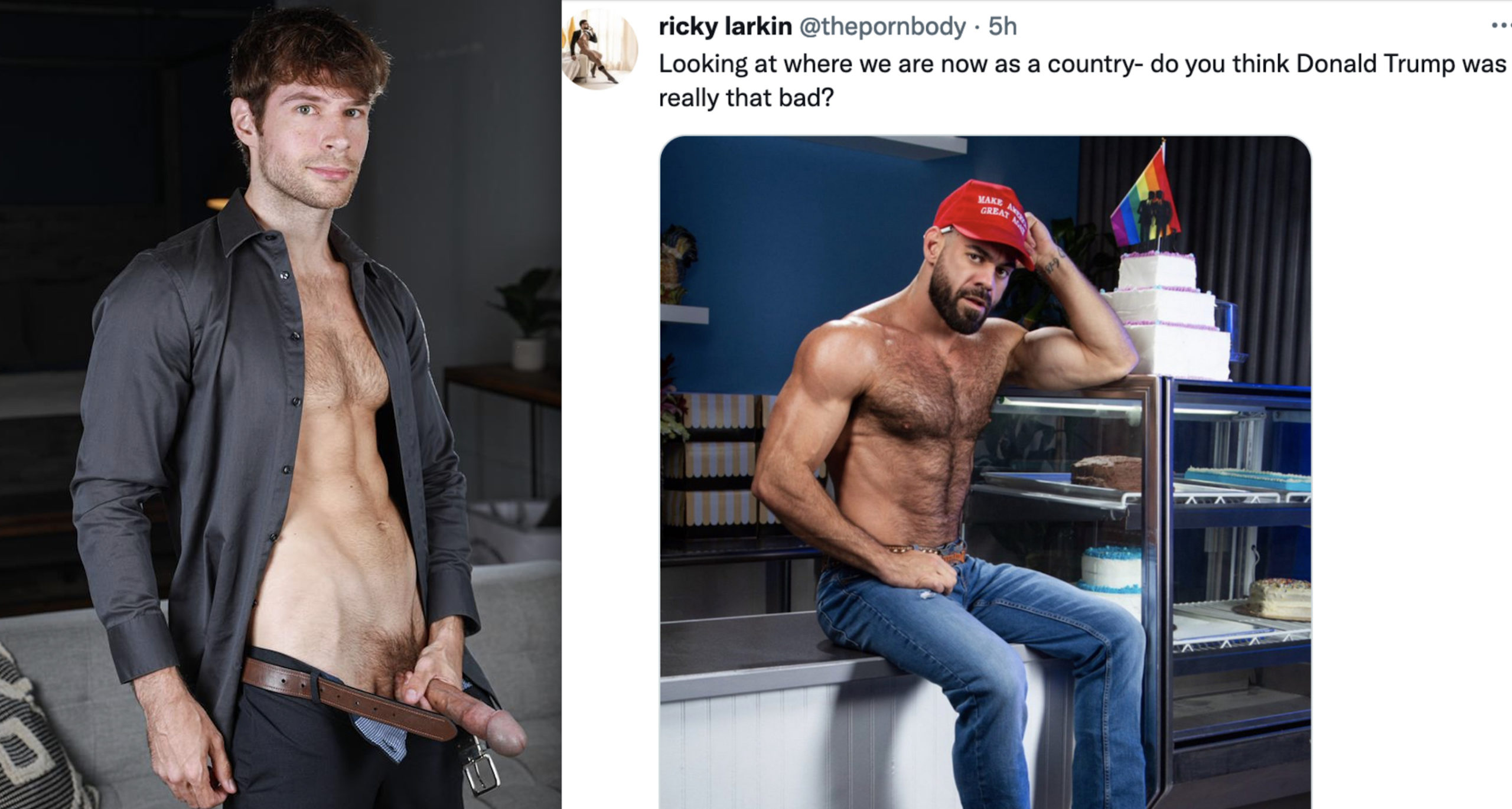 —Worst Gay-For-Payers: (tie) David Skylar & Ricky Larkin
I don't think these neanderthals even know each other, but they truly were two putrid peas in a pod in 2022. When racist syphilis carrier Ricky Larkin wasn't blackmailing and stalking his ex-girlfriend to the point that a restraining order was issued against him, he was longing for Donald Trump's return to the presidency. And when troubled heterosexual David Skylar wasn't complaining about not receiving "credit" for remaining erect in his gay porn scenes, he too was dreaming of an orange White House, even going so far as to excuse Trump's sexual assault accusations by telling his followers that the rapist-in-chief "fondled women over their clothes" without having "direct skin contact." Maybe after reading this, Larkin-Skylar (LarLar?) can collab their way into working on the Trump 2024 campaign together. Of course, they aren't the first pro-Trump gay-for-payers, which brings us to…
—Worst Domestic Terrorist: Steven Miles (a.k.a. "Sergeant Miles")
I took no pleasure reporting the Str8Up exclusive story that Sergeant Miles—perhaps the biggest stain on the gay porn industry in the last decade—would be facing decades in prison for his assault on police officers and his storming of the Capitol during the January 6th insurrec—hahaha, just kidding, I took great pleasure reporting this! By this time next year, the psychotic misogynistic homophobic MAGA motherfucker will hopefully be rotting in federal prison, and while the gay-for-pay Proud Boy may be on the Worst list, his arrest was also kind of the Best thing to happen in gay porn in 2022?
—Worst Enabling Of A Sexual Predator By A Charitable Mental Health Group: Pineapple Support
What more can be said about Pineapple Support's hiring of confessed sexual predator Chi Chi LaRue to DJ their porn star mental health charity event? I've tried to give the therapy service the benefit of the doubt (repeated requests for comment went unanswered), and I even wondered if perhaps they had given LaRue some free counseling in exchange for his DJ services? It obviously wouldn't be a fair trade (any drunk in the bar can push buttons on a computer and randomly scream at people, just like anyone can stand on a porn set and randomly scream at people), but at least it would've partially explained why the organization—whose supposed sole purpose is to help porn stars with mental heath—chose to promote someone who was literally fired for harming a porn star's mental health. When asked about the accusations and his firing from NoirMale, LaRue complained in an interview just this year that, "I guess these days, you have to believe the victim." Lucky for LaRue, that's not the case at Pineapple Support, where victims are discarded and sexual predators are welcomed with open arms.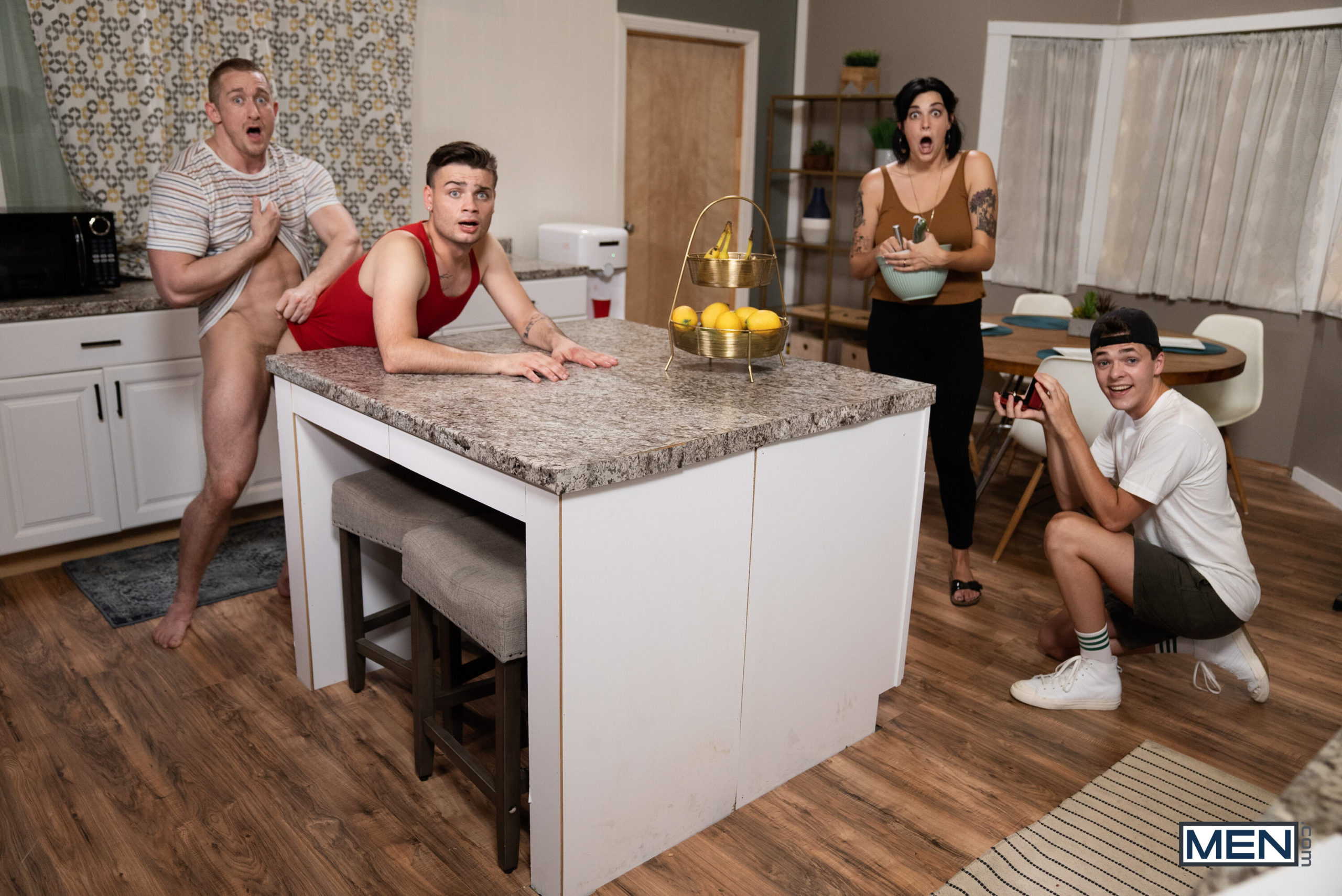 —Worst Gay Porn Scene Of 2022: Mason Wyler's Comeback At Men.com
There were probably a lot of gay porn scenes that were worse than this one (pick virtually any Finn Harding scene, for example), but because this starred beloved gay porn star Mason Wyler, its awfulness stung extra hard. From the embarrassing cock ring to the even more embarrassing lack of a cum shot from Wyler, "My Dad Fucked My Fiancé" was an unparalleled gay porn disaster from beginning to end. As noted upon its dreadful release, this is the worst Mason Wyler scene in history, and most certainly the worst gay porn scene of 2022.
—Worst Gay Porn Star-Turned-Jesus Freak: (tie) Rocco Reed & Kyle Connors
Only in the world of gay porn could you have a tie for this category. Retired gay-for-payer Kyle Connors didn't have as big of a bigoted platform as this category's other "winner" to spout his Christian nonsense, but he took to Facebook in 2022 to tell his friends that gay porn is a "world of sin," while being gay "goes against God." Meanwhile, fellow retired star Rocco Reed went from one scam (being a gay-for-pay porn star) to another (being a pastor preaching about how bad porn is), and he whined about how "harmful" performing in gay porn was when he guested on MAGA bimbo Candace Owens' podcast. If he thinks being in porn was harmful, he should've felt what it was like to actually watch his porn. May Satan bless both of these freaks with guilt and shame for the rest of their miserable lives.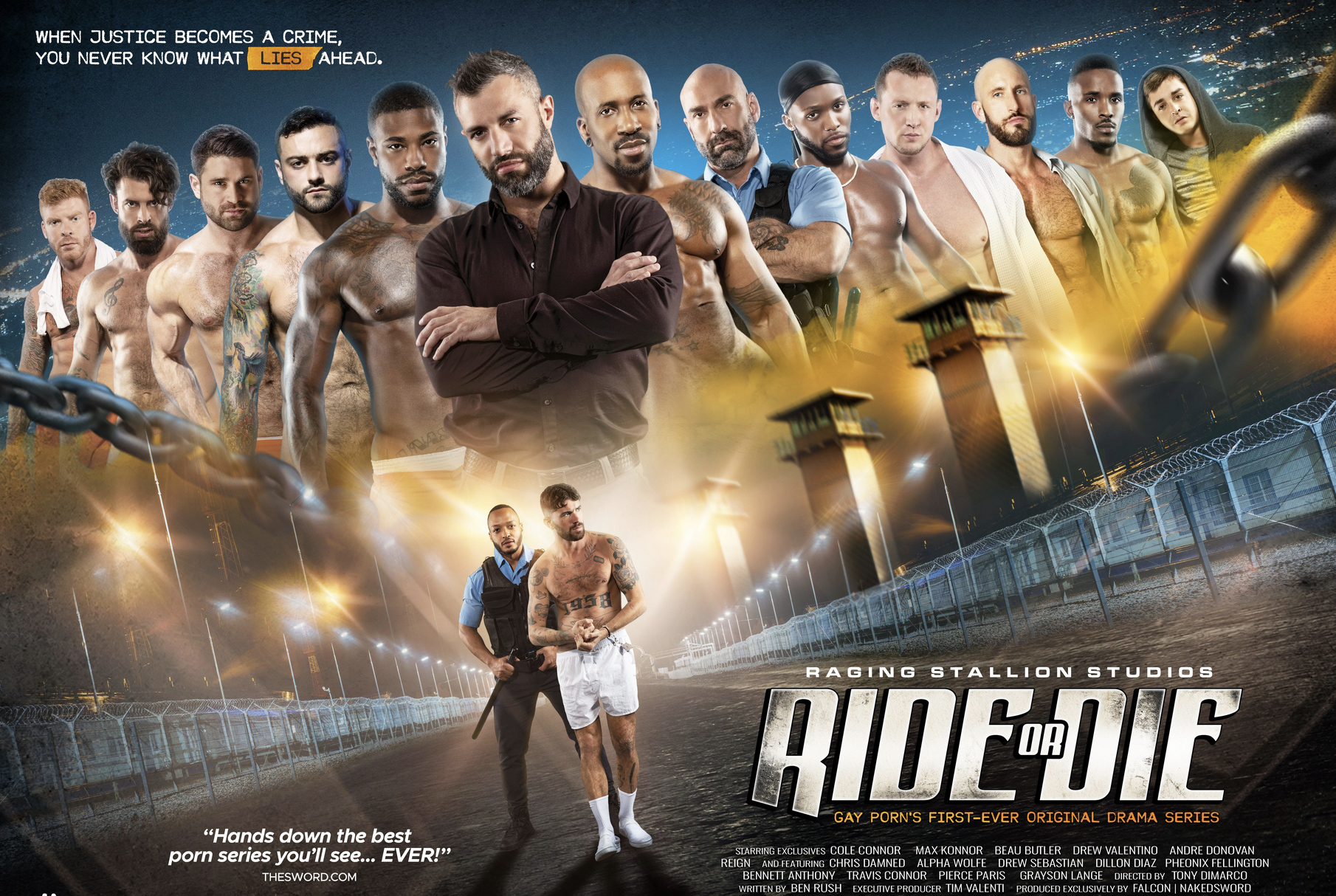 —Worst Press Release And Marketing: NakedRagingHotFalcon's "Ride Or Die"
Ride Or Die was neither the "first-ever" gay porn series nor the "best production of all time," but NakedRagingHotFalcon went out of their way to try and convince you otherwise. The studio delusionally made things up in their press releases for the series, and they disparagingly retconned their own legacy by acting like their own previous productions (Wet Palms, Golden Gate, etc.) never existed. They even quoted themselves (TheSword is owned and operated by NakedRagingHotFalcon!) on their own poster above, as if it were a review from someone outside the company. I think this might be a sign of schizophrenia? Or multiple personality disorder? Where's Pineapple Support when you need them?! Oh, right, they're busy helping the sex predator. Speaking of which, Ride Or Die features rape, sex trafficking, and bloody murder, but it does not feature Pierce Paris achieving an erection. Now that would've been "groundbreaking."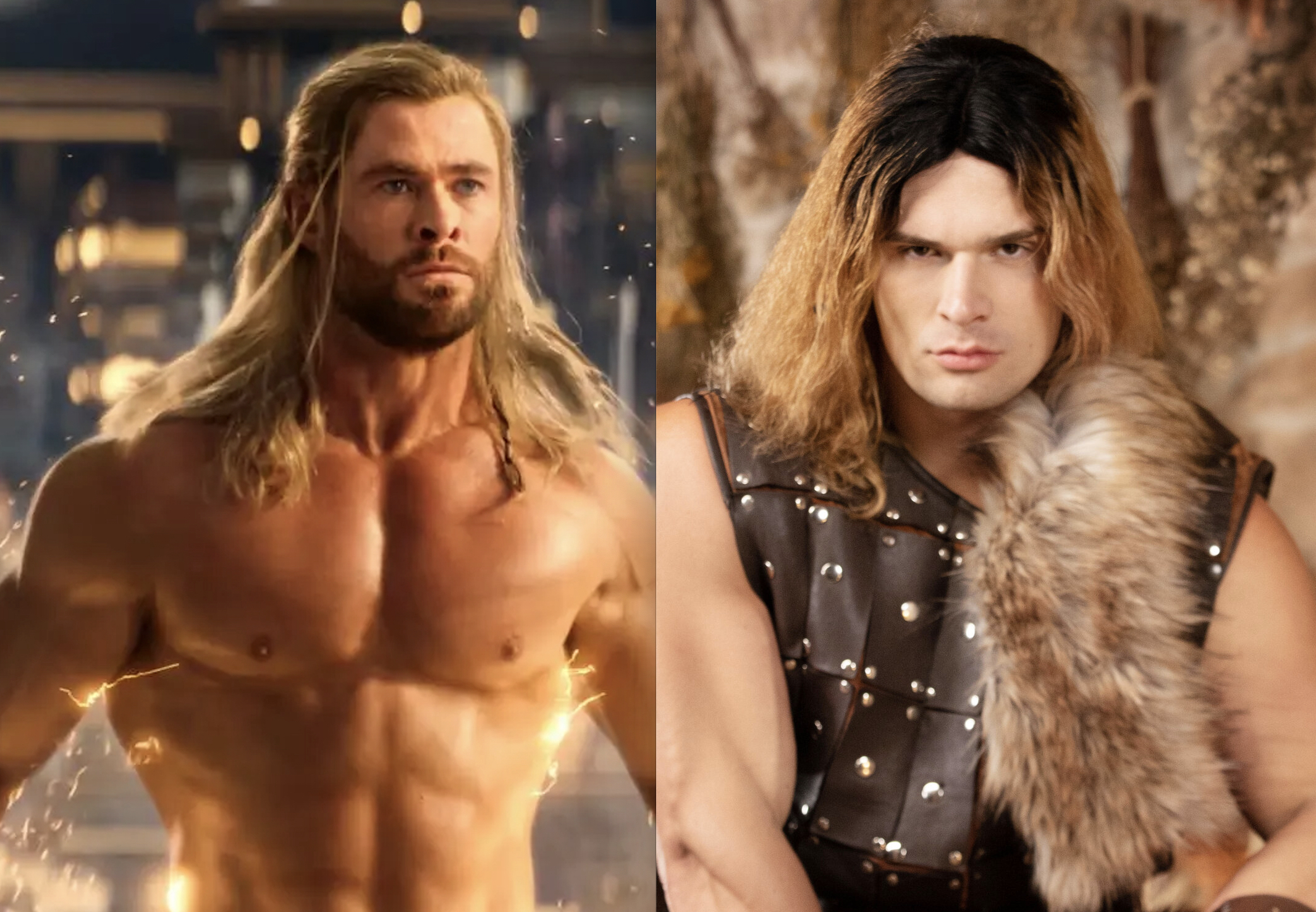 —Worst Wig: Malik Delgaty
Last but not least, we end on a much lighter note. Malik Delgaty undoubtedly had the worst wig of 2022, which he wore in a gay porn series about vikings or something. Found on a Party City clearance rack from 2003, the wig was supposed to be serving Chris Hemsworth, but it ended up serving wet mop dipped in Cheeto dust instead. I would say that Malik Delgaty deserved better than this, but did he? On the bright side, Malik DelTaco ended the year with one of the best bottoming debuts of 2022, so he definitely redeemed himself eventually. (See, I can be nice.)
Speaking of nice, the "Best Of Gay Porn 2022" list is coming later this week!