Year In Review: The Very Best And Very Worst Of Gay Porn In 2017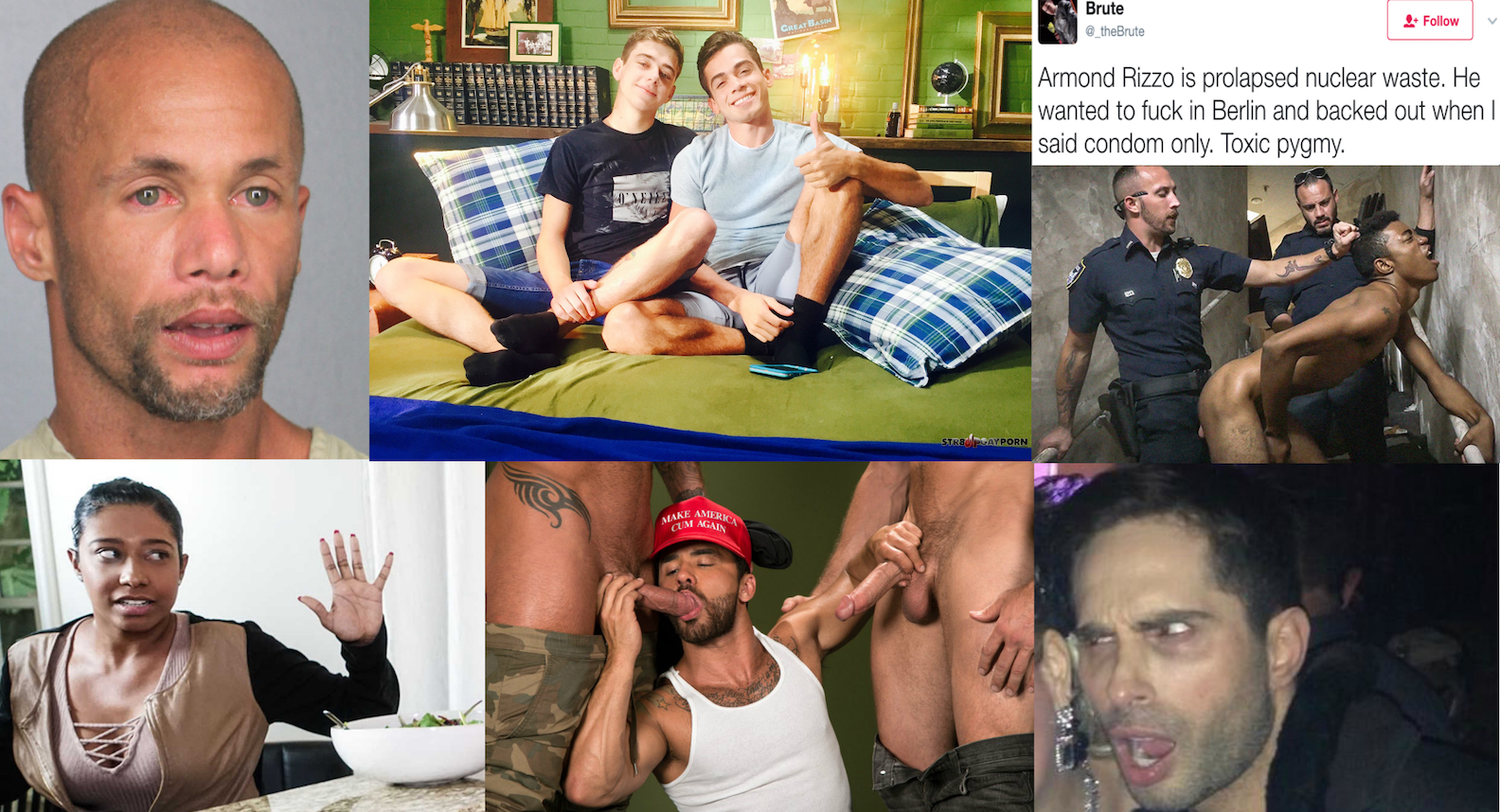 Crime, politics, social media wars, untimely deaths, racism, and, surprisingly, women were all a big part of gay porn in 2017. Here's Str8UpGayPorn's rundown of all the best (and worst) gay porn events, news, people, and trends that shaped 2017.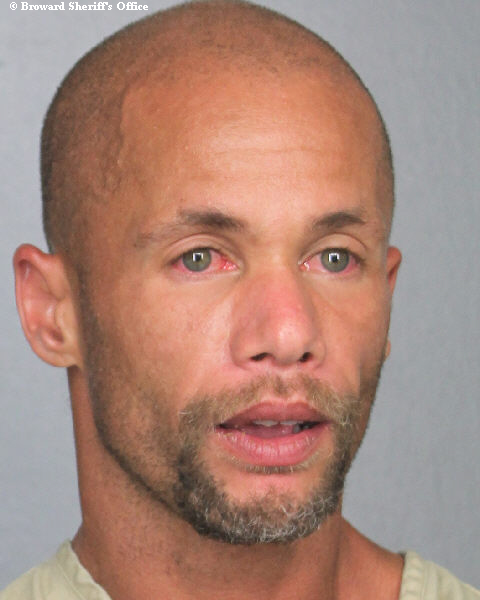 Gay Porn Crimes, Lawsuits, Court Cases, And Arrests
Murdering sugar daddies, making meth, burglarizing cars, masturbating in public, and being naked in front of a Cracker Barrel were just some of the things many high profile gay porn stars were arrested for this year. Here's a look back at what happened to Matthew Rush, Jarec Wentworth, Sebastian Young, and several Sean Cody models—and note that a majority of these stories were reported exclusively here, so click any link for all the details as they first appeared on Str8UpGayPorn.
—Tyler St. James And His Family Convicted Of Manufacturing Illegal Steroids
—Ruling On Jarec Wentworth Appeal Delayed As Ninth Circuit Judge Who Heard Case Resigns Over Sexual Misconduct Allegations
—Sebastian Young Convicted Of "Disorderly Conduct" For Threatening To Murder A Police Officer; Trial For Raping Daughter Delayed Until March, 2018
—Sean Cody's Francisco Convicted Of Murdering Sugar Daddy; Sentenced To Life In Prison
—Gay Porn Star Ali Liam Charged With First Degree Murder After Boyfriend Found Stabbed To Death
—Rentboy CEO Sentenced To Six Months In Prison
—Sean Cody's Chase On Trial For Murder In Kentucky
—Blu Kennedy Arrested For Possession Of "Hundreds" Of Child Porn Images And Videos
—Gay Porn Star Chris Bines Guilty Of Conspiring To Distribute Up To $1,000,000 Of Marijuana In Florida
—GayHoopla Model Kyle Dean Released From Jail And Into His Mother's Custody Following Drug And Burglary Convictions
—Sean Cody's Robert Convicted Of Assaulting A Police Officer While Naked And On Cocaine At A Cracker Barrel
—Big-Dicked Gay Porn Star Tyce Jax Arrested For Beating His Boyfriend (Again)
—Sean Cody Model Who Likes To Masturbate In Public Is Actually A Registered Sex Offender Convicted Of Indecent Exposure
—Judge Dismisses Murder Case Against Big-Dicked Gay Porn Star Josh Logan
—White Supremacist Gay Porn Star Cameron Diggs Arrested By SWAT Team In Dallas For Manufacturing Drugs
—Matthew Rush Arrested In Florida For Assault And Battery
—Matthew Rush's Felony Meth Charge Reduced To Misdemeanor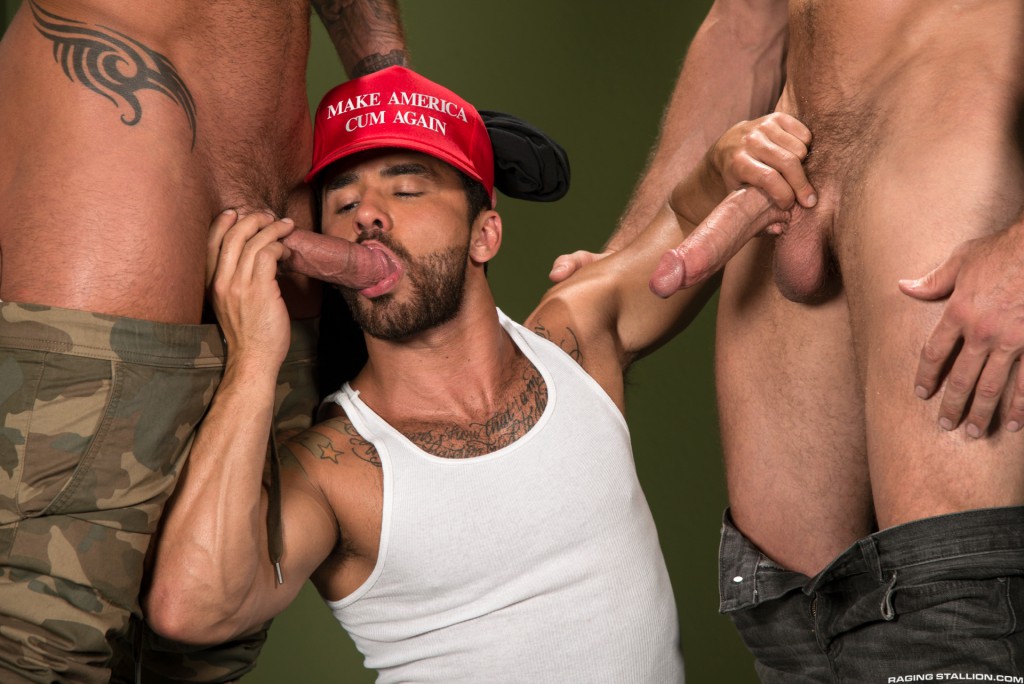 Donald Trump's Gay Porn Debut
Who in their right mind could ever have imagined they'd be talking about "President" Donald Trump and gay porn in the same breath? With Colby Keller's repeated attempts to explain his Trump vote, gay porn stars calling out Keller for that vote, and gay porn parodies about Trump's America, masturbating to gay porn without having hear to about the barf-inducing Cheeto every 30 seconds was a challenge in 2017! Plus, even those in the Trump administration (however briefly) managed to make news by inserting themselves into the world of gay porn, as evidenced by Anthony Scaramucci and Blake Mitchell.
—Why Is Now Fired White House Communications Director Anthony Scaramucci Following Gay Porn Star Blake Mitchell On Twitter?
—Raging Stallion's Trump-Themed Gay Porn Is Here: "Hey Faggot, Go Back To Your Own Country!"
—Gay Porn Star Vadim Black Tweets That He'd "Love To See Someone Assassinate Donald Trump"
—Colby Keller, Who Voted For Trump, Reminds Fans: "I Don't Support Trump"
—Twitter Users React To Colby Keller's Tweet Comparing Hillary Clinton To Donald Trump
—Here We Go Again: Colby Keller Tries (And Fails) To Explain Trump Vote In Advocate Op-Ed
—Diesel Washington, Wesley Woods, And Bravo Delta Drag Colby Keller For His Trump Vote, While Tegan Zayne Let Him Eat His Ass
—Wesley Woods Drags Colby Keller For Trump Vote In Open Letter: "It Is A Disastrous Attempt At Being Truly Radical"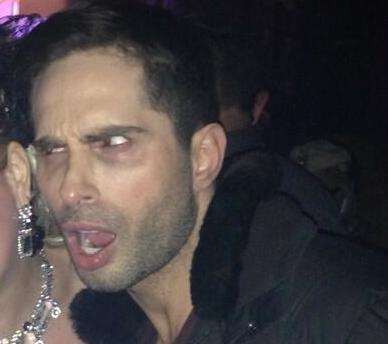 Worst Person Of 2017: Michael Lucas
As he does every year, Michael Lucas started the year being accused of harassing, abusing, and defrauding performers, and he ended the year being accused of…you guessed it: Harassing, abusing, and defrauding performers. Lucas is a pathetic, shameful, and horrific stain on the industry, and as Str8UpGayPorn has pointed out dozens of times since 2013, those who continue to allow his and his company's involvement in the industry are culpable and in fact responsible for all of his relentless and unending abuse of sex workers. Disgusting.
—Michael Lucas Restates Hatred Of Muslims, Labels Refugees "Barbarians"
—18th Employee Comes Forward To Accuse Michael Lucas And Lucas Entertainment Of Harassment And Non-Payment
—Tom Faulk: Michael Lucas Distributes PrEP Pills And Gives Trimix Injections To Models During Bareback Porn Shoots
—Performer Beau Reed Accuses Michael Lucas And Lucas Entertainment Of Abuse And Non-Payment For Scenes
—The Porn Industry's Awards Shows Have Supported And Awarded Notorious Racist Michael Lucas For Years
—Cash-Starved Michael Lucas Is Now Trying To Sell A Three-Year-Old Cell Phone Clip Of Ashton Summers
—Michael Lucas Caught Threatening Gay Porn Studios Over Model Josh Moore Despite Bogus Contract
—Michael Lucas Threatens Bloggers Who Cover Josh Moore's Work With Other Studios
—Michael Lucas Falsely Claims That Logan Moore Assaulted Josh Moore
—LISTEN: Michael Lucas Says He'll "End" Porn Star Logan Moore's Career In Threatening Voicemails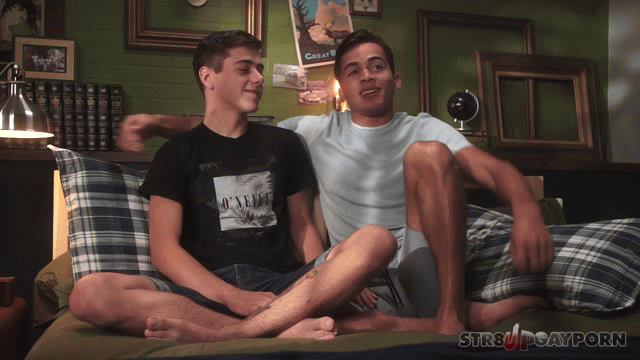 The Year In Interviews
Viktor Belmont, Sean Cody's Brandon, Bruce Beckham, Joey Mills, Tom Faulk, and Kyle Ross were just some of the fascinating gay porn stars Str8UpGayPorn interviewed in 2017.
—Viktor Belmont On Becoming A Gay Porn Star, Being An Inspiration To The Trans Community, And How He Popped Justin Brody's Cherry
—Joey Mills And Ashton Summers Exclusive Video Interview: Part 1 & Part 2
—Gay Porn Newcomer Cameron Parks On His Helix Debut, Getting Caught Jerking Off, And More!
—"Right In Front Of My Salad's" Nikki V. Reveals How She Became This Summer's Biggest Gay Porn Star
—How Tom Faulk Made MXXX Such A Hit, Who Stabbed Him, And Why Michael Lucas Is Running "The Most Fucked Up Studio On The Planet"
—Exclusive: Clark Parker Opens Up About Corbin Fisher, His Sexuality, Filming With Austin Wilde, And More!
—Catching Up With Max Carter: Being Part Of A Powercouple, A Production Assistant, And A Gay Porn Superstar
—Exclusive: Sean Cody's Brandon On Sexuality, "Cope With Fitness," And More In First-Ever Interview
—Micah Brandt Exclusive: On Racial Preferences, Escorting Challenges, And Being A Gay Porn Star In 2017
—Bruce Beckham Exclusive: How To Be Gay Porn's Comeback King In 2017
—Kyle Ross Exclusive: How To Be An Award-Winning Gay Porn Superstar In 2017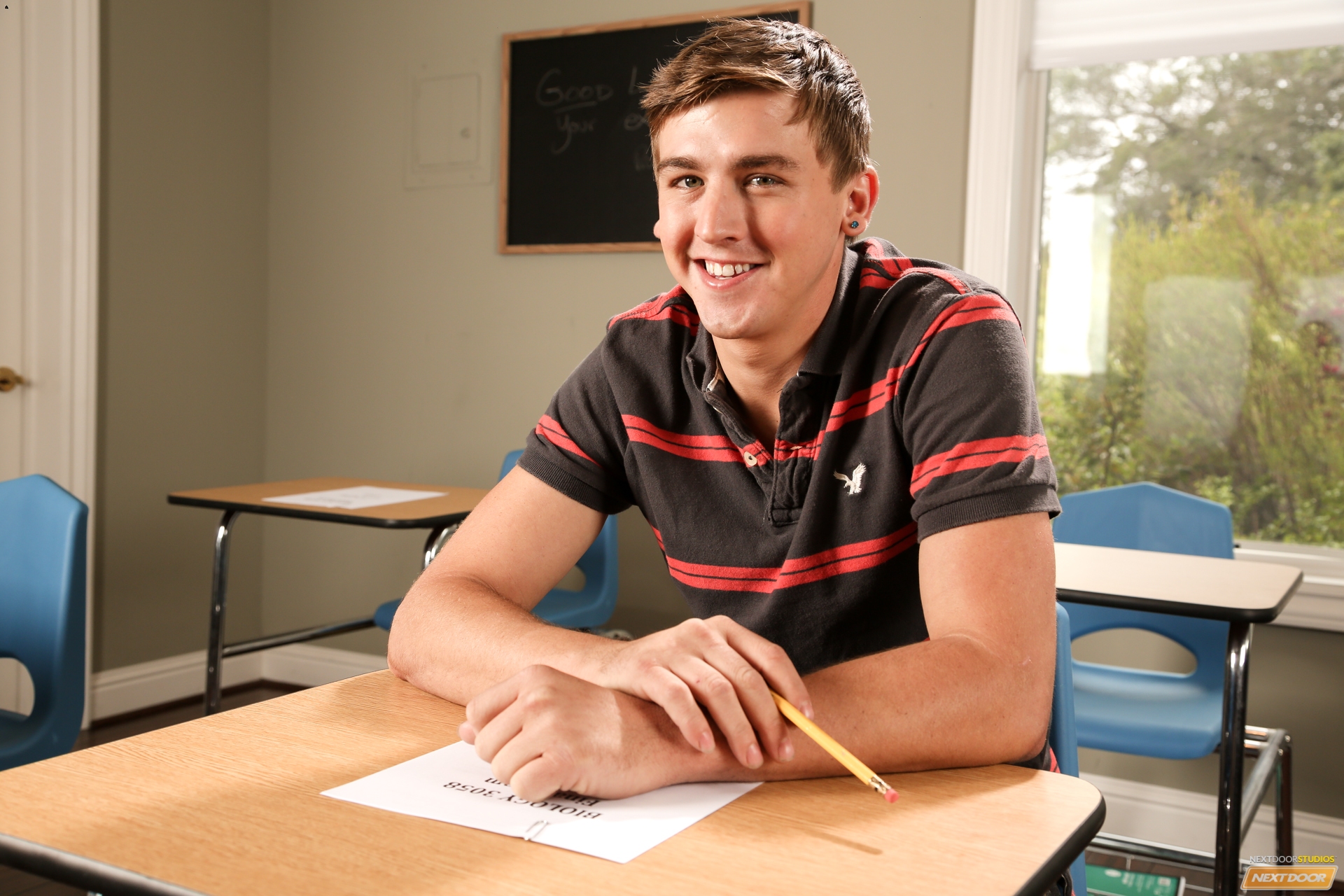 Rest In Peace
R.I.P. to those who passed in 2017.
—Straight Porn Star August Ames Has Died
—Gay Porn Star Tyler Sky Has Died Following Cardiac Arrest
—Gay Porn Star Max Schutler Has Died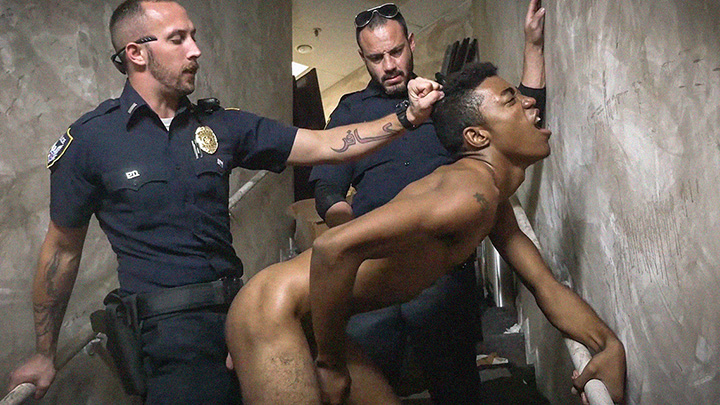 Gay Porn's Problem With Racism
While the outrage over the GayVN Awards "ethnic" category—which was prompted by a porn star on Twitter who's known for causing bizarre fights on social media more than he is for actually being a porn star—provoked a worthwhile conversation, gay porn's problem with racism is systemic, just as it is in many facets of American life. So, there's a lot more work to be done getting to the root cause of the problem. For example, gay porn studios can start by not hiring racist gay porn stars who refuse to work with black people, or who have Nazi symbols tattooed on their bodies. Just a thought. On the bright side, many studios made historic changes this year by including more racially diverse models in their productions, so some people are striving to do better, and their work should be appreciated.
—Porn Studio GayPatrol Features White Police Raping Black Men Labeled "Spear Chuckers" And "Darkies"
—Racist Gay Porn Star Antonio Biaggi Tells Beyoncé Fans To Keep "Twerking" To Pay For Fried Chicken

—Men.com Releases Their First Scene With Two Men Of Color

—Helix Makes History As Real-Life Boyfriends Marcell Tykes And Adrian Kelley Fuck Raw

—Are Gay Porn Award Shows With "Ethnic" Categories Racist?

—Leo Forte On Racism In The Gay Porn Industry: "We Are All At Fault"

—Jacen Zhu And River Wilson Take Turns Fucking Each Other In "Montreal Pride"

—Sean Zevran And Micah Brandt Flip-Fuck In Hot House's First Scene Ever Featuring Two Black Men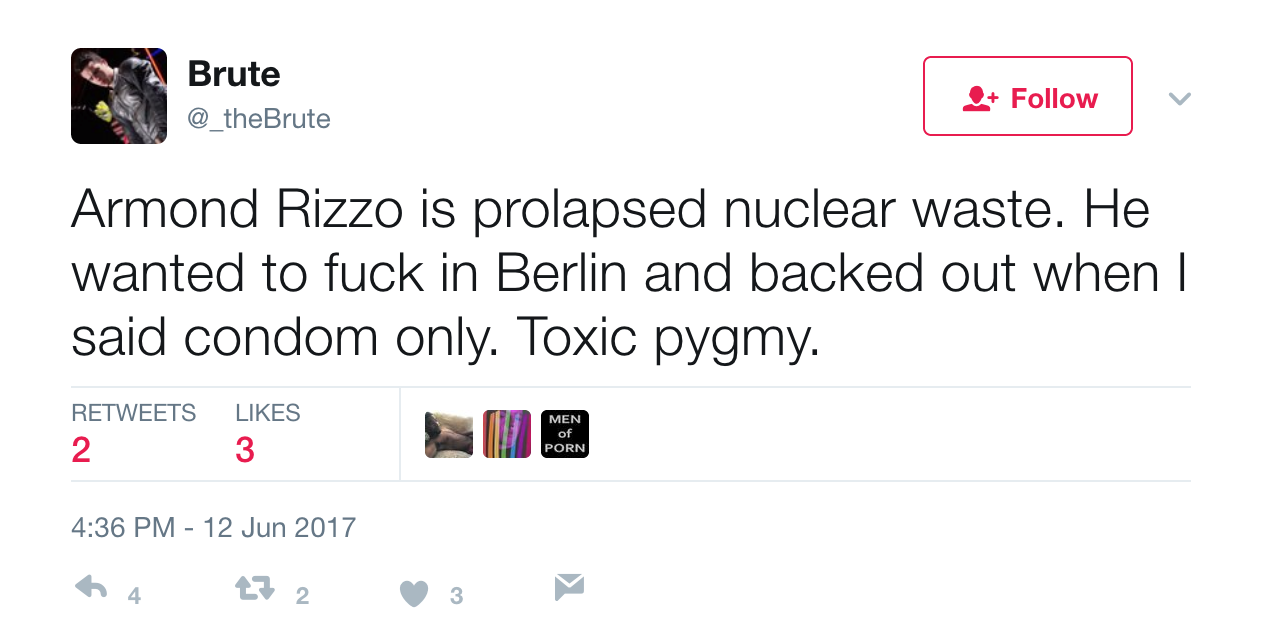 Gay Porn Stars Fighting On Twitter
One thing in gay porn that has not and likely will not ever change? The fights and meltdowns on social media. From consistently delusional nutjobs like Nica Noelle to attention-starved drama queens like Dolf Dietrich, there was no shortage of Twitter drama in 2017, and if you only knew how sore my fingers are from taking so many screenshots all year long! While some porn stars tweeted about trivial issues like socks, burritos, and toxic pygmies, others went public with some very serious accusations, including domestic abuse.
—Former Twink Seth Knight Accuses "Chicken-Legged" Dolf Dietrich Of Insulting Him During 15-Man Orgy
—Dolf Dietrich Responds To Seth Knight's Claim That He Wears Five Pairs Of Socks: "That Is Completely False. I Only Wear TWO Pairs Of Socks."
—#sockgate2017: Seth Knight And Dolf Dietrich Are Still Fighting About Socks And Chicken Legs On Twitter
—Gay Porn Star Damien Kyle Is Having A Twitter Fight With His Boyfriend Paul Canon Over A Burrito
—Colt Rivers Deletes Twitter And Retires From Porn Because Of "Soulless Nightmare Billy Santoro"
—Brute Club And Armond Rizzo Are Fighting On Twitter Over François Sagat
—Now Billy Santoro Is Whining Over TitanMen Filming Tex Davidson
—Seth Santoro Accuses Billy Santoro Of Violent Assault: "He Punched Me In The Face Repeatedly"
—Nica Noelle Threatens To Release Videos Of "Beloved Gay Porn Director Feeding Cocaine To Young Models"
—Abusive Sociopath Nica Noelle Says She's Leaving Icon Male (Again) To Launch A Lesbian Studio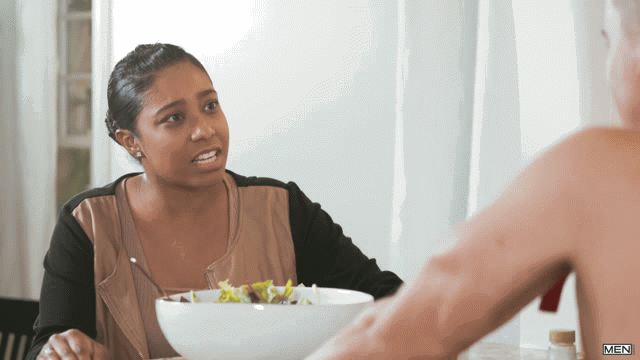 Women, In My Gay Porn?
Last, and definitely least, the stupidest and most overused gay porn "theme" of 2017 was women in gay porn. Whether they played wives, sisters, girlfriends, or moms, women in gay porn scenes were repeatedly depicted "catching" their closeted husbands, sons, boyfriends, or brothers having gay sex, and then exploding into histrionic tirades before storming off set dejected and humiliated. With the exception of Nikki V. in the genuinely hilarious "Right In Front Of My Salad," these scenarios are not creative, not funny, and not interesting, and they have nothing to do with the gay sex that customers are paying to jerk off to. Instead, the women are used solely for marketing, as the concept of seeing a woman horrified by gay sex comes off as "funny" or "crazy" to people of all ages, genders, and sexualities on social media, and studios want their content going viral. Regardless of whether or not the gay sex scenes are any good (and, as you know, most of them are horrible), the more visibility something has, the more it sells. Because women in gay porn is strictly a marketing technique that is not newsworthy and does not contribute in any way to the value of a gay porn scene, Str8UpGayPorn will no longer be covering this misogynistic, homophobic, and tired "theme" in 2018, and this recap will be the last time you hear about it here.
—Will Braun's Mom Snaps When She Mistakes His Fleshjack For A Flashlight
—Gay Porn Studio RealityDudes Is Now Releasing Straight Porn Featuring The Sexual Harassment Of Women
—Which Wife Reacted Better To Catching Her Closeted Gay Husband Fucking Another Man: The Menstruating Wife Or The European Wife?
—Beaux Banks Hides In A Duffel Bag So His Sister Won't See Him Sucking Her Boyfriend's Cock
—The "Right In Front Of My Salad?" Woman Is The Most Popular Gay Porn Performer Of The Summer
—Of Course Men.com Already Made A "Right In Front Of My Salad" Sequel
—Gay-For-Pay Porn Star Vadim Black Has Gay Sex While His Girlfriend Lies Right Next To Him
—Diego Sans Gets His Dick Sucked And Shoots A Load—While His Sister Watches
—Girlfriend Told To "Get The Fuck Out, Bitch" After Discovering Her Closeted Gay Boyfriend Getting His Dick Sucked